ESSEC Alumni in Germany: "This is a very diverse country with many economic centers"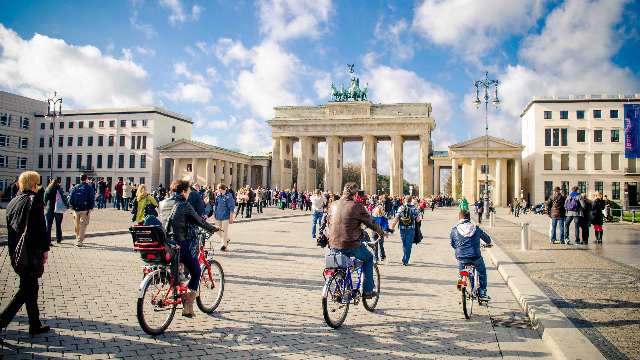 Cette page n'est pas disponible en Français
From economic resilience to Oktoberfest: Aude Hennino (E97), Head of ESSEC Alumni's Germany Chapter, tells us more about our 1,000 alumni living in the land of Angela Merkel – and the services she offers to them.
ESSEC Alumni: What opportunities are there in Germany for our alumni?
Aude Hennino: Germany is a very diverse country with many industries (automotive, chemical, machinery…) and services, and relatively well-balanced economic power across the regions. Frankfurt hosts many banks, while Berlin attracts many start-ups and high-tech companies, and Hamburg has a long history of commerce and trade. This is actually reflected in the way our alumni spread across the country, with about the half living in Munich, Frankfurt, Berlin, Hamburg and Stuttgart.
EA: How does the COVID-19 pandemic impact those opportunities?
A. Hennino: Like in many countries, the COVID-19 pandemic put a halt on some activities, especially in the second quarter 2020 as well as again since December 2020. However the government managed to issue effective support measures for the companies impacted by the lockdown while containing the country's debt, and has been deploying a successful vaccine strategy since the end of December. Hence, there are good hopes that the situation will improve this year.
EA: What news from the local ESSEC community in this context?
A. Hennino: We have created regional chapters in Berlin, Frankfurt, Hamburg and Munich (see below for contacts) in order to reach out to as many alumni as possible and foster regular networking. We now aim at creating two further chapters covering the Baden-Würtemberg and the Northrhine-Westfalen regions. If you are interested in those, do not hesitate to reach out to us!
EA: As a foreigner, what makes it interesting to live in Germany?
A. Hennino: People mindset is still marked by the former split of the country (West/East) until 1989, which is quite fascinating. That being said there is a plain German way of living and thinking. Workwise, there is some truth behind the cliché: they are very structured and organized. They also may seem blunt, but in reality they are just pretty straightforward, and favor constructive discussion over confrontation. As for leisure, you get easy access to skiing and hiking areas from the South as well as to the sea and various lakes in the North. There are also a lot of magnificent castles and landscapes to visit and enjoy. Hamburg in particular is known for its amazing villas along the Elbe and Alster rivers. You might also enjoy some highly popular traditions, such as Oktoberfest in Munich. Germans do love their beer – and food! When eating breakfast, the table looks like everything from the fridge has fallen onto the table.
EA: What advice do you have for our alumni moving in Germany?
A. Hennino: Learn German. Be on time. If you have children, carefully check children care possibilities ahead of moving: Germany remains a fairly traditional country, and schools are often open until 1 or 2 pm at most (even if it has been improving lately). Last but not least, reach out to your local chapter president for help! (see below for contacts)
EA: When is your next event?
A. Hennino: We'll be hosting a virtual event on 26th January for all ESSEC Alumni in Germany, to meet and discuss the year ahead altogether. Register now!
Reach out to ESSEC Alumni's team in Germany:
- Berlin Chapter: Antoine Debore (M11)
- Hamburg Chapter: Verena Noske (H10)
- Munich Chapter: David Svensson (H15)
- Frankfurt Chapter & Germany Chapter: Aude Hennino (E97)
Interview by Veary Ngy, International Community Manager at ESSEC Alumni, and Louis Armengaud Wurmser (E10), Content Manager at ESSEC Alumni
Want to read more? Join ESSEC Alumni for us to be able to bring other quality contents about the community to you.
Image : © AdobeStock - Facundo
ESSEC Alumni in Germany: "This is a very diverse country with many economic centers"
2021-01-11 18:38:00
essecalumni.com
https://essecalumni.com/medias/image/20235196475cf7e441c07c3.png
2021-01-12 11:24:40
2021-01-11 18:42:56
Louis ARMENGAUD WURMSER
From economic resilience to Oktoberfest: Aude Hennino (E97), Head of ESSEC Alumni's Germany Chapter, tells us more about our 1,000 alumni living in the land of Angela Merkel – and the services she offers to them. ESSEC Alumni: What opportunities are there in Germany for our alumni?Aude Hennino: Germany is a very diverse country with many industries (automotive, chemical, machinery…) and services, and relatively well-balanced economic power across the regions. Frankfurt hosts many banks, while Berlin attracts many start-ups and high-tech companies, and Hamburg has a long history of commerce and trade. This is actually reflected in the way our alumni spread across the country, with about the half living in Munich, Frankfurt, Berlin, Hamburg and Stuttgart. EA: How does the COVID-19 pandemic impact those opportunities? A. Hennino: Like in many countries, the COVID-19 pandemic put a halt on some activities, especially in the second quarter 2020 as well as again since December 2020. However the government managed to issue effective support measures for the companies impacted by the lockdown while containing the country's debt, and has been deploying a successful vaccine strategy since the end of December. Hence, there are good hopes that the situation will improve this year.EA: What news from the local ESSEC community in this context?A. Hennino: We have created regional chapters in Berlin, Frankfurt, Hamburg and Munich (see below for contacts) in order to reach out to as many alumni as possible and foster regular networking. We now aim at creating two further chapters covering the Baden-Würtemberg and the Northrhine-Westfalen regions. If you are interested in those, do not hesitate to reach out to us!EA: As a foreigner, what makes it interesting to live in Germany?A. Hennino: People mindset is still marked by the former split of the country (West/East) until 1989, which is quite fascinating. That being said there is a plain German way of living and thinking. Workwise, there is some truth behind the cliché: they are very structured and organized. They also may seem blunt, but in reality they are just pretty straightforward, and favor constructive discussion over confrontation. As for leisure, you get easy access to skiing and hiking areas from the South as well as to the sea and various lakes in the North. There are also a lot of magnificent castles and landscapes to visit and enjoy. Hamburg in particular is known for its amazing villas along the Elbe and Alster rivers. You might also enjoy some highly popular traditions, such as Oktoberfest in Munich. Germans do love their beer – and food! When eating breakfast, the table looks like everything from the fridge has fallen onto the table. EA: What advice do you have for our alumni moving in Germany?A. Hennino: Learn German. Be on time. If you have children, carefully check children care possibilities ahead of moving: Germany remains a fairly traditional country, and schools are often open until 1 or 2 pm at most (even if it has been improving lately). Last but not least, reach out to your local chapter president for help! (see below for contacts)EA: When is your next event? A. Hennino: We'll be hosting a virtual event on 26th January for all ESSEC Alumni in Germany, to meet and discuss the year ahead altogether. Register now!Reach out to ESSEC Alumni's team in Germany: - Berlin Chapter: Antoine Debore (M11) - Hamburg Chapter: Verena Noske (H10) - Munich Chapter: David Svensson (H15) - Frankfurt Chapter & Germany Chapter: Aude Hennino (E97) Interview by Veary Ngy, International Community Manager at ESSEC Alumni, and Louis Armengaud Wurmser (E10), Content Manager at ESSEC Alumni Want to read more? Join ESSEC Alumni for us to be able to bring other quality contents about the community to you.Image : © AdobeStock - Facundo
https://essecalumni.com/medias/image/thumbnail_5542596275ff58445c11bd.jpg
Veuillez vous connecter pour lire ou ajouter un commentaire