ESSEC Alumni in the UK: "We welcome new comers!"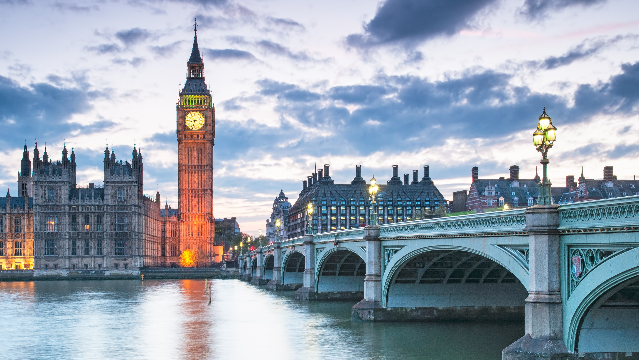 The United Kingdom is home to the biggest ESSEC community outside France, with 1,600 graduates living and working across the Channel, and hundreds of students doing internships there every year. Olivia Verbrugghe (M09), Head of ESSEC Alumni's UK Chapter, tells us more about life in the land of Queen Elizabeth and Boris Johnson, in the times of COVID-19 and Brexit.
ESSEC Alumni: What is the outline of the ESSEC community in the UK?
Olivia Verbrugghe: 91% live in London and 9% all across the country. 60% work in the finance sector: JP Morgan, BNP, Goldman Sachs, HSBC, Barclays, Deutsche Bank, Morgan Stanley, Citigroup, Société Générale and Bank of America all rank amongst ESSEC's top 10 recruiters here. The second biggest outlet for our alumni is high technology and digital with 15%. Other industries include retail, luxury, hospitability, consultancy, pharmaceutics, public sector, energy, and start-ups.
EA: What opportunities are there in the UK for ESSEC's alumni?
O. Verbrugghe: London offers many opportunities for expats as it has a very international state of mind and low taxation on revenue (19% in average) and unemployment rate (4.5%). That being said, COVID-19 is of course changing the playing field. The United Kingdom has lost 61,700 people since the beginning of the pandemic and just had to implement a second lockdown. Consequently, the British economy has a negative growth rate: -19.8% for Q3 2020. On a positive note for international readers, travellers flying via Heathrow airport can now get tested for £80 and get their result within an hour, which allows to shorten the two-week quarantine for people from foreign countries with high rates of coronavirus infection to seven days.
EA: What about the Brexit impact?
O. Verbrugghe: The Office for National Statitics (ONS) shows that there are still more immigrants entering the country than emigrants leaving the country. Granted, banks and firms have relocated more than 4,500 finance jobs to Europe. However there remain about 255,000 French people in Britain. Even though some left, there is a silver lining: it is now possible to integrate the highly reputed Lycée Français Charles de Gaulle that used to have an endless waiting list!
EA: What will happen once the Brexit deal is done?
O. Verbrugghe: French citizens must apply for a 'settled status' or 'pre-settled status' (depending on whether they have been continuous residents in the United Kingdom for 5 years before 31 December 2020) before the end of June 2021 to secure their rights to stay in the country. Afterwards, foreign citizens will have to apply to a visa either to work or to study here. The French consulate is sending reminders as only 40% have actually completed the process for now.
Also, Brexit implies a long list of change of rules for importing and exporting goods from or to the United Kingdom. As early as January 2021, visas will be needed to enter the country for business or leisure trips, sports and creative events, studying and working. The application can start 3 month before the due start date and decision is received within 5 working days.
EA: What makes it interesting to live in the United Kindgom? What may strike a foreigner as specific to the country?
O. Verbrugghe: I can think of many things that are 'so british'! A specificity that comes to mind in those challenging times is the economical organisation around charities. There are 168 000 charities registered in the United Kingdom, covering numerous issues (elderly, children, sick, homeless, education, health, environment, animal…) and clearing a £75bn revenue per year. During the first lockdown, it was heart warming to the see charities taking over and relaying the actions of the government to insure every citizen got access to essential needs. All British commit either time or money in one or several charities, whatever their own income is. It is a mindset and a philosophy.
Another distinctive feature is the school system. They have unique learning educational methods and tend to offer more time than usual to personal skills development in addition to the academic curriculum, with an emphasis on art, sports, theatre, science… Also, boarding schools are very popular, with kids spending full weeks or trimesters at school and only returning home on weekends or holiday breaks, which is a way for them to build confidence and independence. Most boarding admit either only girls or only boys, and require that pupils wear uniforms. This too is quite typical!
EA: What advice do you have for alumni moving in the UK?
O. Verbrugghe: The first thing a new comer has to do is to register at the French consulate; the second is to contact the ESSEC Alumni UK Chapter! We have an organisation in place to welcome new comers and we offer many opportunities to connect with other alumni.
EA: What is the offer of ESSEC Alumni's UK Chapter?
O. Verbrugghe: We have a fantastic team of 25 ESSEC volunteers composed of 5 boards members and 20 clubs representatives. We have 4 categories of clubs. 1. Thematic & Professional Clubs: Finance, Legal, Technology & Entrepreneurship, Sport Media & Entertainment, Hospitality. 2. Exclusive Clubs: Senior Executive & Business Leader Circle, Business Angels, ESSEC Women Club. 3. Leisure Clubs: Art, Golf, Poker. 4. Local Clubs in London: the city being so spread out, it can be nice to meet with people living or working nearby your area – we have zone ambassadors for Canary Wharf, Swiss Cottage, St John's Wood, Southwark, the City and North London (Highbury, Finsbury, Park, Holloway).
EA: Who are the members of your team?
O. Verbrugghe: Our team is a proud representation of ESSEC's network, with a wide range of seniorities, degrees (Master in Management, Masters, MBA, Global BBA and Executive Education), nationalities and backgrounds (see the full list below!). I would like to take this opportunity to thank all the volunteers, who dedicate their time and effort to animate our amazing communities, having the team's success at heart.
Also, anyone who wants to be involved should reach out to us because the merrier, the better! Some clubs representatives are running the activity alone and will be happy to get some help. We are also open to new ideas and suggestions. There are many ways to be involved within our community. Feel free to contact us at ea.uk@essec.edu.
EA: What events do you organize?
O. Verbrugghe: The Senior Executive & Business Leader Circle just organised a digital wine tasting event: participants got to taste samples of French wines that had been delivered to their home while listening to the owner of the winery. The Finance Club and the Sport Media & Entertainment Club also had very interesting events with high-end experts about topics such as Environmental Social Governance in the finance industry or the football's digital revolution. The Technology & Entrepreneurship Club launched a set of conferences with confirmed entrepreneurs playing in the international arena. Our next event will be organised by the Business Angels Club: stay tuned!
Note that our events are digital, so anyone can attend, either based in the UK or in another country.
EA: How famous is the ESSEC brand in the UK?
O. Verbrugghe: In 2017, ESSEC implemented a representative office in London with Professor Geneviève Helleringer (E96). The aim is to promote the school and its programmes within the country by participating in education fair tradeshow, developing corporate and academic partnerships as well as coordinating actions with ESSEC Alumni and the ESSEC Foundation. This will help us gain momentum!
Interview by Veary Ngy, International Community Manager at ESSEC Alumni, and Louis Armengaud Wurmser (E10), Content Manager at ESSEC Alumni
Join ESSEC Alumni's UK Chapter's thematic clubs:
- Finance Club: Cyril Auger (M99), Xavier Bosco (M99), Clément H. Monteil (E18) & Harikrishnan Harikumar Sheela (E15)
- Sport Media & Entertainment Club: Max Métral (E16)
- Technology & Entrepreneurship Club: Valérie Maure (E93) & Adil Dewan (E17)
- Hospitality Club: Audrey Saade (H09) & Caroline Pravongviengkham (H14)
- ESSEC Women Alumni: Laura Law-Wai (M08), Laetitia Sfez (E08), Neha Vaidya (E15) & Aurore Babel-Weeks (E04)
- Business Angels: Emma Berger (E94) & Arnaud Flecchia (E90)
- Senior Executive & Business Leader Circle: David Blanc (M94)
- Art Club: Philippine Assémat-Tessandier (E14)
- Local Ambassadors at Canary Wharf, Swiss Cottage, St John's Wood, Southwark, the City and North London (Highbury, Finsbury, Park, Holloway): Roxane Sanguinetti (BBA13), Thomas Dortel (M05), Bénédicte Pfister (E95) & Neha Vaidya (E15)
Reach out to ESSEC Alumni's UK Chapter's board:
- Olivia Verbrugghe (M09), President & ESSEC Alumni Board's Member
- Aurore Babel-Weeks (E04), VP Communication
- Gregory Simon (M11), VP Social Media & Treasurer
- Audrey Ngouadje (E12), Secretary & VP Event Coordination
- Ranim Korhani (E17), VP Events & Coordination
From left to right:
Row 1: Harikrishnan Harikumar Sheela (E15), Audrey Saade (H09), Clément H. Monteil (E18), Philippine Assemat-Tessandier (E14), Aurore Babel-Weeks (E04), Xavier Bosco (M99)
Row 2: Olivia Verbrugghe (M09), Emma Berger (E94), Max Métral (E16), Roxane Sanguinetti (BBA13), Gregory Simon (M11), Neha Vaidya (E15)
Row 3: Valerie Maure (E93), Caroline Pravong (H14), Laura Law-Wai (M08), Cyril Auger (M99), Arnaud Flecchia (E90), Yann Alix (E05)
Row 4: David Blanc (M94), Laetitia Sfez (E08), Bénédicte Pfister (E95), Thomas Dortel (M05), Adil Dewan (E17)
ESSEC Alumni in the UK: "We welcome new comers!"
2020-11-17 21:05:00
essecalumni.com
https://essecalumni.com/medias/image/20235196475cf7e441c07c3.png
2020-11-18 11:40:24
2020-11-17 21:08:10
Louis ARMENGAUD WURMSER
The United Kingdom is home to the biggest ESSEC community outside France, with 1,600 graduates living and working across the Channel, and hundreds of students doing internships there every year. Olivia Verbrugghe (M09), Head of ESSEC Alumni's UK Chapter, tells us more about life in the land of Queen Elizabeth and Boris Johnson, in the times of COVID-19 and Brexit.  ESSEC Alumni: What is the outline of the ESSEC community in the UK? Olivia Verbrugghe: 91% live in London and 9% all across the country. 60% work in the finance sector: JP Morgan, BNP, Goldman Sachs, HSBC, Barclays, Deutsche Bank, Morgan Stanley, Citigroup, Société Générale and Bank of America all rank amongst ESSEC's top 10 recruiters here. The second biggest outlet for our alumni is high technology and digital with 15%. Other industries include retail, luxury, hospitability, consultancy, pharmaceutics, public sector, energy, and start-ups. EA: What opportunities are there in the UK for ESSEC's alumni?O. Verbrugghe: London offers many opportunities for expats as it has a very international state of mind and low taxation on revenue (19% in average) and unemployment rate (4.5%). That being said, COVID-19 is of course changing the playing field. The United Kingdom has lost 61,700 people since the beginning of the pandemic and just had to implement a second lockdown. Consequently, the British economy has a negative growth rate: -19.8% for Q3 2020. On a positive note for international readers, travellers flying via Heathrow airport can now get tested for £80 and get their result within an hour, which allows to shorten the two-week quarantine for people from foreign countries with high rates of coronavirus infection to seven days. EA: What about the Brexit impact? O. Verbrugghe: The Office for National Statitics (ONS) shows that there are still more immigrants entering the country than emigrants leaving the country. Granted, banks and firms have relocated more than 4,500 finance jobs to Europe. However there remain about 255,000 French people in Britain. Even though some left, there is a silver lining: it is now possible to integrate the highly reputed Lycée Français Charles de Gaulle that used to have an endless waiting list! EA: What will happen once the Brexit deal is done?O. Verbrugghe: French citizens must apply for a 'settled status' or 'pre-settled status' (depending on whether they have been continuous residents in the United Kingdom for 5 years before 31 December 2020) before the end of June 2021 to secure their rights to stay in the country. Afterwards, foreign citizens will have to apply to a visa either to work or to study here. The French consulate is sending reminders as only 40% have actually completed the process for now. Also, Brexit implies a long list of change of rules for importing and exporting goods from or to the United Kingdom. As early as January 2021, visas will be needed to enter the country for business or leisure trips, sports and creative events, studying and working. The application can start 3 month before the due start date and decision is received within 5 working days.  EA: What makes it interesting to live in the United Kindgom? What may strike a foreigner as specific to the country? O. Verbrugghe: I can think of many things that are 'so british'! A specificity that comes to mind in those challenging times is the economical organisation around charities. There are 168 000 charities registered in the United Kingdom, covering numerous issues (elderly, children, sick, homeless, education, health, environment, animal…) and clearing a £75bn revenue per year. During the first lockdown, it was heart warming to the see charities taking over and relaying the actions of the government to insure every citizen got access to essential needs. All British commit either time or money in one or several charities, whatever their own income is. It is a mindset and a philosophy. Another distinctive feature is the school system. They have unique learning educational methods and tend to offer more time than usual to personal skills development in addition to the academic curriculum, with an emphasis on art, sports, theatre, science… Also, boarding schools are very popular, with kids spending full weeks or trimesters at school and only returning home on weekends or holiday breaks, which is a way for them to build confidence and independence. Most boarding admit either only girls or only boys, and require that pupils wear uniforms. This too is quite typical! EA: What advice do you have for alumni moving in the UK? O. Verbrugghe: The first thing a new comer has to do is to register at the French consulate; the second is to contact the ESSEC Alumni UK Chapter! We have an organisation in place to welcome new comers and we offer many opportunities to connect with other alumni. EA: What is the offer of ESSEC Alumni's UK Chapter? O. Verbrugghe: We have a fantastic team of 25 ESSEC volunteers composed of 5 boards members and 20 clubs representatives. We have 4 categories of clubs. 1. Thematic & Professional Clubs: Finance, Legal, Technology & Entrepreneurship, Sport Media & Entertainment, Hospitality. 2. Exclusive Clubs: Senior Executive & Business Leader Circle, Business Angels, ESSEC Women Club. 3. Leisure Clubs: Art, Golf, Poker. 4. Local Clubs in London: the city being so spread out, it can be nice to meet with people living or working nearby your area – we have zone ambassadors for Canary Wharf, Swiss Cottage, St John's Wood, Southwark, the City and North London (Highbury, Finsbury, Park, Holloway). EA: Who are the members of your team?O. Verbrugghe: Our team is a proud representation of ESSEC's network, with a wide range of seniorities, degrees (Master in Management, Masters, MBA, Global BBA and Executive Education), nationalities and backgrounds (see the full list below!). I would like to take this opportunity to thank all the volunteers, who dedicate their time and effort to animate our amazing communities, having the team's success at heart.Also, anyone who wants to be involved should reach out to us because the merrier, the better! Some clubs representatives are running the activity alone and will be happy to get some help. We are also open to new ideas and suggestions. There are many ways to be involved within our community. Feel free to contact us at ea.uk@essec.edu.EA: What events do you organize?O. Verbrugghe: The Senior Executive & Business Leader Circle just organised a digital wine tasting event: participants got to taste samples of French wines that had been delivered to their home while listening to the owner of the winery. The Finance Club and the Sport Media & Entertainment Club also had very interesting events with high-end experts about topics such as Environmental Social Governance in the finance industry or the football's digital revolution. The Technology & Entrepreneurship Club launched a set of conferences with confirmed entrepreneurs playing in the international arena. Our next event will be organised by the Business Angels Club: stay tuned! Note that our events are digital, so anyone can attend, either based in the UK or in another country.EA: How famous is the ESSEC brand in the UK? O. Verbrugghe: In 2017, ESSEC implemented a representative office in London with Professor Geneviève Helleringer (E96). The aim is to promote the school and its programmes within the country by participating in education fair tradeshow, developing corporate and academic partnerships as well as coordinating actions with ESSEC Alumni and the ESSEC Foundation. This will help us gain momentum!Interview by Veary Ngy, International Community Manager at ESSEC Alumni, and Louis Armengaud Wurmser (E10), Content Manager at ESSEC Alumni Join ESSEC Alumni's UK Chapter's thematic clubs: - Finance Club: Cyril Auger (M99), Xavier Bosco (M99), Clément H. Monteil (E18) & Harikrishnan Harikumar Sheela (E15)- Sport Media & Entertainment Club: Max Métral (E16) - Technology & Entrepreneurship Club: Valérie Maure (E93) & Adil Dewan (E17)- Hospitality Club: Audrey Saade (H09) & Caroline Pravongviengkham (H14) - ESSEC Women Alumni: Laura Law-Wai (M08), Laetitia Sfez (E08), Neha Vaidya (E15) & Aurore Babel-Weeks (E04)- Business Angels: Emma Berger (E94) & Arnaud Flecchia (E90)- Senior Executive & Business Leader Circle: David Blanc (M94) - Art Club: Philippine Assémat-Tessandier (E14) - Local Ambassadors at Canary Wharf, Swiss Cottage, St John's Wood, Southwark, the City and North London (Highbury, Finsbury, Park, Holloway): Roxane Sanguinetti (BBA13), Thomas Dortel (M05), Bénédicte Pfister (E95) & Neha Vaidya (E15)Reach out to ESSEC Alumni's UK Chapter's board: - Olivia Verbrugghe (M09), President & ESSEC Alumni Board's Member - Aurore Babel-Weeks (E04), VP Communication- Gregory Simon (M11), VP Social Media & Treasurer- Audrey Ngouadje (E12), Secretary & VP Event Coordination - Ranim Korhani (E17), VP Events & CoordinationFrom left to right:Row 1: Harikrishnan Harikumar Sheela (E15), Audrey Saade (H09), Clément H. Monteil (E18), Philippine Assemat-Tessandier (E14), Aurore Babel-Weeks (E04), Xavier Bosco (M99)Row 2:  Olivia Verbrugghe (M09), Emma Berger (E94), Max Métral (E16), Roxane Sanguinetti (BBA13), Gregory Simon (M11), Neha Vaidya (E15) Row 3: Valerie Maure (E93), Caroline Pravong (H14), Laura Law-Wai (M08), Cyril Auger (M99), Arnaud Flecchia (E90), Yann Alix (E05)Row 4: David Blanc (M94), Laetitia Sfez (E08), Bénédicte Pfister (E95), Thomas Dortel (M05), Adil Dewan (E17)
https://essecalumni.com/medias/image/thumbnail_976479105fbccb196ca11.jpg
Veuillez vous connecter pour lire ou ajouter un commentaire